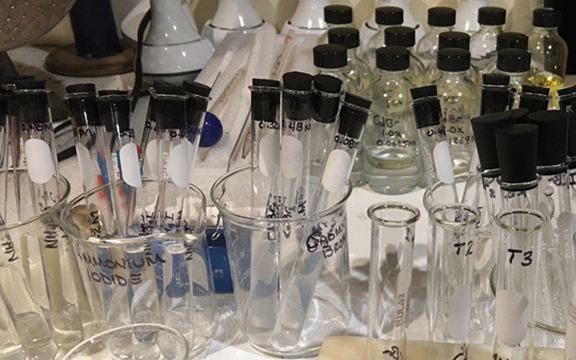 Material Safety Data Sheets:
This is where the rubber meets the road; the place where science, chemistry in particular, plays a predominant role in the artistic process. Because the darkroom, and to an even greater degree the wet-plate collodion darkroom, is essentially a chemistry lab, there are a number of "good practice" techniques and safety habits that one should be familiar with.
Because the wet-plate lab deals with a wide variety of potentially hazardous materials, the first order of business is to learn about the materials, their hazards, and how to handle them safely. Several chemicals used in the process are poisonous, carcinogenic, extremely flammable, and/or potentially explosive.
Read and understand the MSD sheets for the particular chemicals you have in your darkroom, and seek counsel from trained professionals (chemists, hazardous material handlers, specialized public safety officers, etc.) who are familiar with proper handling and disposal of these chemicals.
THE AUTHOR AND PUBLISHER OF THIS ARTICLE DO NOT ACCEPT ANY RESPONSIBILITY OR LIABILITY RESULTING FROM ERRORS, OMISSIONS, OR THE IMPROPER USE OF THESE CHEMICALS BY OTHER INDIVIDUALS. USE OF ANY CHEMICALS OR METHODS MENTIONED ON THIS SITE IS AT YOUR OWN RISK.
For additional safety data sheets not listed here, visit PubChem which is a comprehensive searchable database of safety data sheets provided by the National Institute of Health (NIH).